- Resistance 3 Details Released -

(written by TX2k7)


This month's edition of Game Informer Magazine game fans of the Resistance franchise a very tantalizing look into Insomniac's upcoming addition: Resistance 3
Picking Up Where The Story Left Off

After defeating Daedelus along with an entire fleet of Chimeran ships in in Resistance 2, the virus proved too much for Nathan Hale (the game's protagonist) finally overtaking him as his voice became eerily alien, speaking of the beauty of humanity's - and ultimately earth's - inevitable downfall. His teammate and fellow Sentinel Lt. Joe Cappeli sees this and, in fulfilling his promise, pulls his pistol on Hale and, after saying his farewell, shoots Hale in the head.
The time is now four years after that incident at the Chicxulub Crater and since then, Cappeli has defected from SRPA in order to start a family in hiding. The Chimera now completely occupy North America along with the rest of the world, and having converted enough humans to form their army, they now seek to rid the earth of any remaining survivors. One such attack, levels Capelli's home in Haven, Oklahoma, where inhabitants futily engaged the enemy to defend their homes. Joe is able to reunite with his wife Susan and their son Jack who has become increasingly ill. Dr. Malikov reveals to Susan that there is an anti-virus that can save her son, but to find it, Cappeli must travel to New York. And so begins his journey, accompanied by the good doctor...
Details About The Game

Insomniac has revealed a lot of new information regarding the game, including the use of a weapon wheel as opposed to the 2 weapon system used in Resistance 2, as well as the addition of a new gun and smarter AI. New features are set to include:
The new Co-Op mode allows players to team up in Cappeli's quest to New York. Unlike Resistance 2 where the co-op followed its own story, players can now conquer the campiagn story together. Key characters include: Dr. Malikov, Joseph Cappeli, and John Harper.
New, smarter AI: Rather than having the enemy home in on players directly as the begin firing, the new AI gives players a chance to conceal themselves before coming under fire. Once spotted however, the Chimera will not only fire upon you, but move to flank your position. The Chimera have also become more agile, allowing them to jump over and move around obstacles that would previously serve the player as effective cover.
Weapons Upgrade System: Players are awarded currency through the use of specific guns, which they can then use to upgrade their weapons.
Updated Weapons: Retruning weapons include the Auger, Carbine, Magnum, Rossmore, and Bullseye. Human weaponry has been revised, designed to appear more improvised, having been compiled out of salvaged materials. A good example of this is the fragmentation grenade which "...is a can of beans with nails strapped around it"

New weapon: The Mutator - Pictured below, this deadly new weapon utilises an infectious bioogical agent intended to cover foes in a toxic mist, causing "Bulbous cysts to erupt all over its body and mutating the target into a combustible landmine that infects nearby Chimera." The alternate fire serves to send out a disorienting mist, leaving foes open to fire. The gun can also be upgraded to affect the Chimera mentally, causing them to attack each other.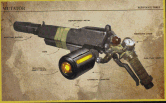 (The Mutator)
Online Play Redesigned: Not much has been revealed about the online play in Resistance 3 yet, however, don't expect it to be the same experience as Resistance 2. Creative Director Marcus Smith tells Game Informer, "The approach to the multiplayer on Resistance 3 is to really streamline the things that were really popular with Resistance 1 and 2. Obviously weapon usage is a big one, but we also have our progression through multiplayer which is a lot tighter. It's going to reward people as they go. We're also setting the location of all our multiplayer maps in various locations around the word. During the single-player campaign you'll be hearing updates [via a radio show] of those battles as you're progressing through the game." One map is set to be in an African prison in the Republic of Chad

New Chimera: The Long Legs - Pictured below, this new foe bring the vertical element into the game as it jumps across rooftops, firing down from above.
(The Long Legs, a new Chimera introduced in Resistance 3, is an agile version of the Hybrid)

As more details are released in the coming months, the information on here will be updated, so keep checking back.


*Note: If you plan to copy any portion of this post for use elsewhere, we request that you list iAMGaming as your source. Thank you.


Source: GameInformer Magazine